What's In Your Closet? with Nan Philip of Simply Elegant
I'm so excited to introduce this new series with an interview with one of my favorite bloggers! I first stumbled across Nan's Instagram several years ago and was so happy to find her blog. I'm a faithful reader and never miss a post, so I was truly thrilled when Nan said she'd love to kick this series off with me!
"What's In Your Closet?" is an exploration of the five most meaningful pieces in a wardrobe—not the most expensive, or the most stylish, but the pieces that are the most special. As a former anthropologist, I've always been fascinated by the meaning ascribed to certain objects, and this series attempts to dive deeply into each participant's style and ethos by these five pieces.
Thank you so much, Nan! I hope you enjoy this interview as much as we did 🙂
A little bit about Nan:
A graduate of Middlebury College, Nan's career started at Blitzer & Company, a boutique PR firm in New York City, representing top interior designers and home brands. From there, Nan joined the team at Weezie Towels, a direct-to-consumer startup, to manage their PR in-house and be part of their marketing team. Afterwards, Nan took her experience to a larger company and joined the marketing team at J.McLaughlin, a clothing brand with over 100 stores throughout the US.
In early 2021, Nan forged her own path and started Nan Philip Consulting, where she offers public relations, marketing, and strategy services to interior designers and lifestyle brands (follow along @nan.philip.consulting!). Nan works with her clients to spread awareness for their brands through various channels, from press placements, influencer partnerships, consumer facing marketing strategies and more. Outside of work, Nan shares her classic style and aesthetic on her Instagram (@nan.philip) and her blog, Simply Elegant. Nan lives in Boston, Massachusetts.
---
Sarah: Please share a little bit about yourself with our readers!
Nan: Hi, I am Nan Philip. I am in my late 20s and I live in Boston, Massachusetts. I am a New England gal through and through, having grown up in Connecticut and Massachusetts. By day, I am a publicist in the interior design world, helping my clients get their work or brands get press and reach new audiences. And then by night, when the time allows, I share my favorite finds and daily musings on my blog, Simply Elegant, and my Instagram account, @nan.philip. My go-to cocktail is a margarita. I can be convinced to buy more or less any skincare product. I watch way too much Bravo TV and am always stitching countless needlepoint canvases (I may be in my 20s but I act more like I'm in my 60s.) I am always happiest when I am by the ocean. My home is full of color and pattern, but my wardrobe tends to have more neutral hues. I wouldn't be who I am without my family and my friends who are like family!
---
Sarah: You lived in New York for several years, then fairly recently moved to Boston. How has living in New York and Boston influenced your style, both in terms of decor and wardrobe?
Nan: I have always loved clothes and fashion, but I have never considered myself a 'fashion girl.' I don't like to keep up with trends or ever even try to begin to think I really know what is what in the fashion world; I just am continually striving for a more streamlined, well curated, high quality wardrobe.
And when I lived in New York, my lack of being a 'fashion girl' was abundantly clear which I was 100% fine with. What I love about New York is that you can really wear anything and everything, there are just so many people and so many different styles and anything is accepted. New York taught me the importance of a good quality shoe (and cobbler!) and a bottomless tote bag!
On the other hand, while I love Boston dearly, I am sorry to say there is simply not a lot of style in Boston. So sometimes when I really get 'dressed' for the day all the sudden I feel like I stand out, which I am not used to. Because in the New York scheme of things, my outfit would not be anything special, but in Boston, my outfit certainly stands out a bit more against a sea of Patagonia!
Sarah: As a native New Yorker, I've always been interested in the fact that while there's no one "New Yorker" style, per se, locals are always immediately recognizable.
Nan: Exactly!
---
Sarah: What part of your life had the most impact on your personal style?
Nan: I know that you also went to boarding school, and I'd have to say that boarding school definitely had a huge impact on my style. Having to pack up all my clothes and belongings twice a year really made me realize what I valued—the clothes I wore all the time, the holes in my wardrobe, and what I didn't wear.
Sarah: For me as well. We had to wear a uniform at my school, so what defined my style is what I wore on days I wasn't in uniform.
Nan: I don't know that I could have done that!
Sarah: It was definitely tough, but really great on mornings with early squash practice!
---
Sarah: Speaking of personal style, who are your style icons?
Nan: I will forever love Ali McGraw's wardrobe in my favorite movie, Love Story. Love Story also definitely has that boarding school feel to it, the old-school preppy feel.
Sarah: I love Love Story. I try to watch it every fall, and you're right. I definitely prefer the old-school look to the newer, "prepster" look.
Nan: Me too. If I had to pick one wardrobe from a film, that would be it. And then for more modern icons I'm always inspired by Kelly Rutherford, Ann Mashburn, Amanda Brooks, and the Rentmeester sisters (@ouiwant.)
Sarah: Ann Mashburn is my favorite! Her clothes are amazing.
Nan: Her clothes and her whole person are so stylish and chic—they are such a cohesive whole. I love discovering new brands via Kelly Rutherford's Instagram, and who doesn't want Amanda Brooks' perfect English countryside look?
Sarah: I know I do!
Nan: I know! I also love the Rentmeester sisters, they are less known, I think, but they post such great, colorful clothes. I'm always really inspired by their outfits.
Sarah: I will have to check them out! Thank you for the recommendation!
---
Nan's Five Most Special Pieces in Her Closet
Goyard Saint Louis GM in Black with Tan Handles
This was my first big investment purchase! I bought it for myself when I graduated from high school after wanting it for years! I saved up money from various jobs as well as graduation gifts from family (that I am sure my family hoped I would save in the bank, but no that money went right to my first big fashion purchase! Whoops!) But ten years later, I still use the bag, so it certainly has earned its 'cost per wear!'
This is the larger size of the Goyard Totes so it can hold a LOT – I always end up reaching for it on those days where I am running countless errands. I am not sure I would re-purchase this bag today simply because I am not sure it is the best investment as it is painted canvas not leather but I will say it has held up pretty well. I brought it back to the Goyard Store in NYC a few years ago (so maybe after I had it for about 6 or 7 years) and had the bag 'restored' which was well worth it. They added little leather caps to the bottom corners where a hole had formed and just seemed to clean the whole bag up; it felt like new afterword. I might need to do that again this year or next – the handles are getting a bit worn.
My Dad's Brown Belgian Shoes
I have this terribly but amazingly beat up pair of my dad's old Belgian Shoes that are so worn in they as comfortable as slippers. (And yes, as embarrassing as it is, I have the same size foot as my dad…! I have the biggest feet, size 12 women's, it is so hard to buy shoes that sometimes I do in fact have to buy men's shoes.)
I can't remember exactly how this pair of my dad's shoes ended up in my closet – I probably slipped them on once while running out to the garage and just forgot to ever give them back to him. The shoes are so worn in that the leather is so worn in places that the color has turned to light tan from the original dark brown. Originally, when I first stole the shoes one of the little leather bows was missing but I sort of loved that, how the shoes were imperfect. But then a year or so back, I got a big hole in the sole of the shoe and I had to take them into the cobbler and without asking the added a new leather bow back on…..which was almost too bad, because I almost loved the haphazard nature of the missing bow. I still slip into these loafers often when it is chilly in my apartment or when I am running down the street for coffee.
Something else I like about Belgian Shoes is that there are no logos. I'm not a fan of logos or really ostentatious branding. I like that it's a "if you know, you know" type of shoe–understated and classic.
My Long Charm Necklace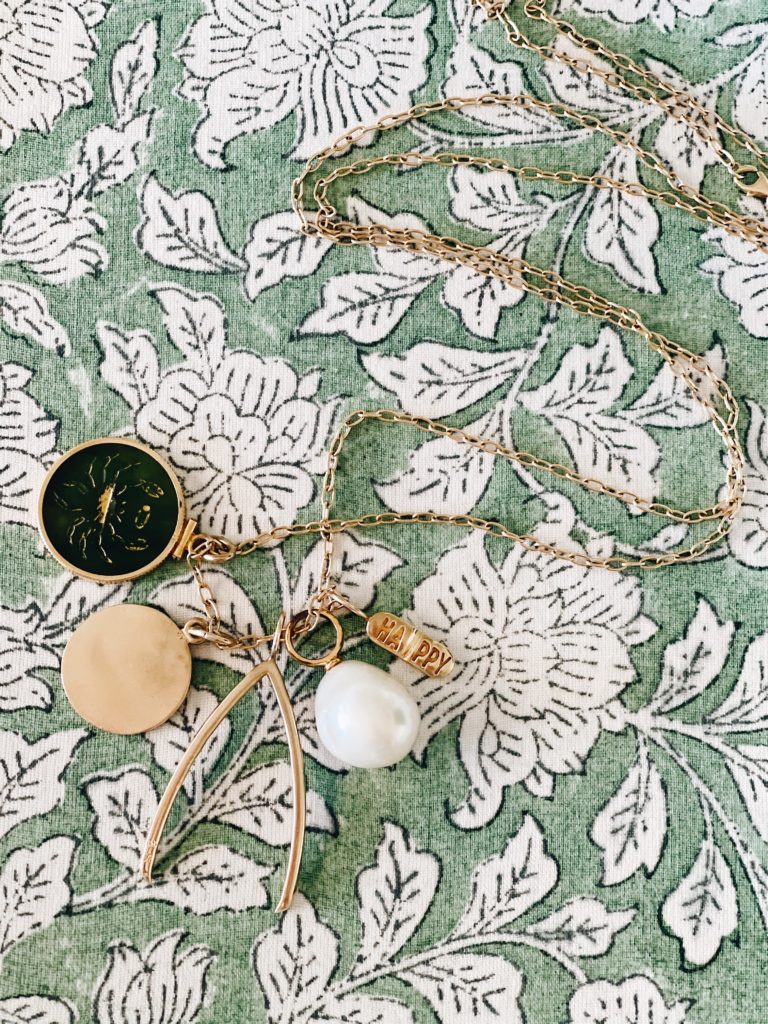 One of the most cherished pieces in my jewelry collection is a gold charm necklace that I have added to for years. It is about 30 inches long and my parents first got it for me as a birthday gift in my early 20s with just one wishbone charm. And then year after year, I have added to it with both new charms and vintage charms that I have from family heirlooms.
I seem to wear it almost every other day, it is certainly a go-to in my wardrobe. Anyone who knows me well, knows that I love to pile on layers of jewelry and this long necklace works perfectly for that. I also love how sentimental it is – every time I wear it, I think of my family and various life events. I will often change up the charms and I hope one day to pass some of the charms on to future daughters the way my mom did for me.
While I also have a charm bracelet, I love how I can change out the charms on this necklace depending on how I'm feeling that day, or if I'm thinking of someone in particular, I can add a charm that reminds me of them, or that they've given me. My family all knows that I collect these charms, so I often receive new ones for gifts.
Classic Olive Beadnell Wax Barbour Jacket
Having both Belgian Shoes and a Barbour Jacket on this list is making me feel painfully preppy but when I was standing in my closet today, thinking of five pieces in my wardrobe that I would never get rid of, these both certainly fit the bill. They are true iconic classics that stand the test of time for a reason.
I would say I got the most wear out of my Barbour during my boarding school and college days… less so while I lived in New York City… but now that I am back in Boston, it is certainly become part of the regular rotation again. But no matter what, there is certainly no autumn season that goes by when I don't pull out my Barbour Jacket a few times, for those crisp New England days nothing is going to serve you better.
I also give Barbour points for their customer service, similar to what I mentioned for Goyard, you can send back your Barbour to get 're-waxed' every few years. I find this process slightly annoying because the jacket smells a bit returned to you (I leave it out on our porch to air out for a few days before brining it back inside.) But getting your jacket 're-waxed' it is one of the best ways to ensuring your coat will last for years! Speaking of, I should actually spend mine in after this fall/winter season is up (it takes 6+ weeks, so I would send in the late spring/early summer so you have the jacket back in time for fall.) You know it is time to send your jacket in to be 're-waxed' when you cannot feel any slickness on the coat exterior and it stops being as water repellent.
Sarah's note: You can also find a guide to rewaxing your Barbour yourself right here on Fewer & Better!
Cashmere Sweater from Mansur Gavriel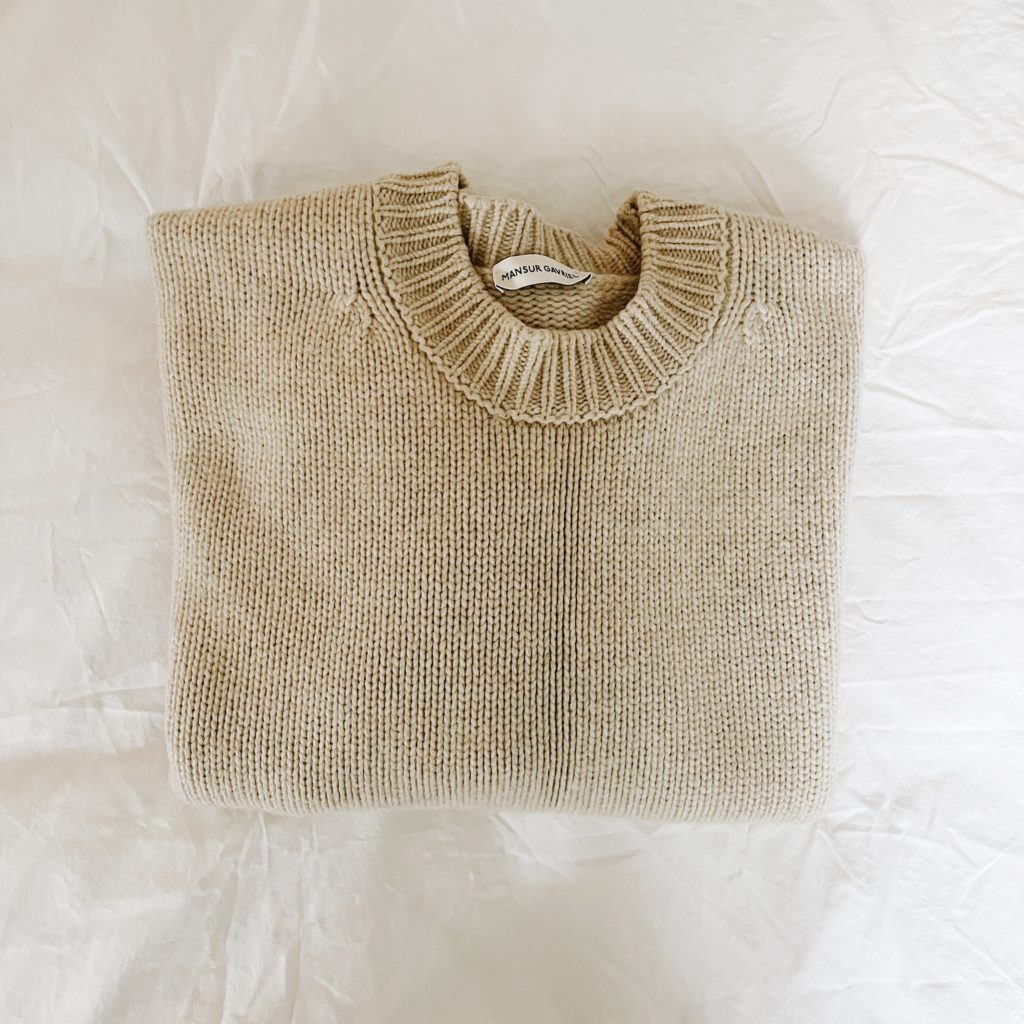 When I first got to New York City after college I certainly fell under the spell of sample sales (now, luckily, that awe has worn off… not interested in those lines or possibly regretful purchases.) But back in those early years, I did find myself at a Mansur Gavriel sample sale and splurged on a super simple but beautiful made heavy weight camel cashmere sweater. Originally, I think the sweater must have been over a thousand dollars, something I could never imagine spending on a sweater of all things. During the sample sale, it was much less, but still a BIG splurge for my newly out of college budget.
Now, over five years later, I own and wear this sweater often. It has held up in near perfect condition and become a mainstay in my closet. It is one of those pieces I can pair with jeans and have a classic outfit in seconds, a great closet staple. I still doubt if the sweater was ever worth the original crazy high price tag but I can tell you it has held up much better than any J. Crew cashmere or less expensive brands…!
This sweater is one of my go-to reminders that investments in your wardrobe are worth it. I continually try to remind myself of the Cuyana tag line: 'fewer, better things'—the same ethos of this exact blog. Every time I reach for this sweater (which is often!) I am reminded to really try to shop less but be more thoughtful about it: to save up and invest in quality pieces that will really last the test of time.
---
Thank you SO much, Nan!! Be sure to read Nan's blog, Simply Elegant, and follow her on Instagram!