What's in Your Closet? with Janie Pierrepont
I'm so excited to feature Janie Pierrepont in the latest installment of "What's In Your Closet?" I've followed Janie's wedding photographer Lucy Cuneo for several years on Instagram and loved the beautiful, stylish, and personal wedding that Janie and her husband, Ned, had! I started following Janie and can't tell you how much I admire her unique and personal style. I was so flattered when Janie agreed to be interviewed for my "What's in Your Closet?" series, and I hope you enjoy getting to know a little more about Janie and her style inspirations! You can follow Janie on Instagram at @janiepierrepont. Thank you so much, Janie!
---
Tell us a little about yourself!
I grew up in New Jersey with two sisters and am currently living in Connecticut with my new husband Ned! We are actually moving back to NYC sometime this spring/summer which I am very excited about. I went to Wake Forest University and studied Marketing/Communications and film. I currently work at Soludos and have been working on a passion project on the side that will be launching very soon!
---
I first stumbled across your Instagram when your wedding photographer, Lucy Cuneo, shared the pictures she took at your wedding. In a world full of the same image a thousand different times, I loved how obviously personal and unique your wedding was, and your style is! When do you first remember asserting your own style, and in what way?
Aw thank you! I would say I really started to assert my own style when I first moved to NYC after college. I noticed that through my experiences in the city (first job, meeting new people, exploring new neighborhoods and restaurants) I found that I was influenced every day and slowly noticed that my style was evolving and still continues to change. I started to base my style off of what made me feel most comfortable in rather than following certain trends or patterns.
---
What period of your life has had the most impact on your personal style?
When I started working at Soludos two years ago, my new office was located in Soho and I was so inspired just by commuting to work or grabbing lunch down the street. I fell in love with the neighborhood/cobblestone streets and I loved observing the street style around me. I became more motivated to try new things.
---
What places have had the most impact on your personal style?
NYC definitely has had a big impact on my style for sure. I lived there for four years after college and feel that it is a place where you can really wear whatever you feel most comfortable or want to stand out in. The energy combined with the many unique neighborhoods/restaurants makes it so fun to change up your style too.
I also have spent a large amount of my time in Florida over the past two years and feel that has had a strong impact on my style as well particularly with my femininity. I really started to fall in love with floral prints, and classic/elegant dresses.
---
Who are your style icons?
My mom is definitely my style icon. Her style is effortless and timeless and I find myself starting to dress like her. Others I would say, Lauren Santo Domingo, Olivia Palermo, and Maria de la Orden.
---
Where do you like to shop? What are you on the hunt for currently?
My favorite especially for vacations or events is Moda Operandi. I sort everything from lowest to highest price and you can really find new brands and pieces that are great quality. I also recommend joining their loyalty program because you can get discounts and earn rewards as you purchase. I also do Rent the Runway and love it. It is perfect for the winter too because I usually rent their coats and sweaters and then can easily return them when it starts to get warmer out which clears out my closet! 🙂 I have found that working from home I really love just wearing lounge/athleisure wear so I am on the hunt for more leggings, matching lounge sets that I can just wear on a daily basis! I also have a bunch of weddings coming up so always fun to browse for party dresses.
---
What are your five most special pieces in your closet?
My Wedding Gown!
My wedding dress is from Vera Wang and I went wedding dress shopping in October of 2020 with my mom. My mom's wedding dress was Vera Wang as well which was definitely special for me.
The photograph of Janie's wedding dress was taken by Lucy Cuneo (website/Instagram) and featured in Vogue.
---
My Rehearsal Dinner Outfit
This was a little harder for me to find but I found the blouse first and spent months looking and trying different skirts to match the top. Eventually I went with this Birds of Paradise skirt that went with the whole whimsical look! The rehearsal dinner was one of my favorite moments because it was with close family and we could just enjoy each other amongst the event-filled weekend.
The photograph of Janie's rehearsal dinner outfit was taken by Lucy Cuneo (website/Instagram) and featured in Vogue.
---
The dress I first met Ned in!
I still have it hanging in my closet and wear it from time to time but it reminds me how we met whenever I stumble upon it in my closet.
---
My After-Party Dress
I wore a fun feathered Cult Gaia party dress for the after party at my wedding and it is such a special dress that I love to pull out and wear for special occasions.
The photograph of Janie's after-party was taken by Lucy Cuneo (website/Instagram) and featured in Vogue.
---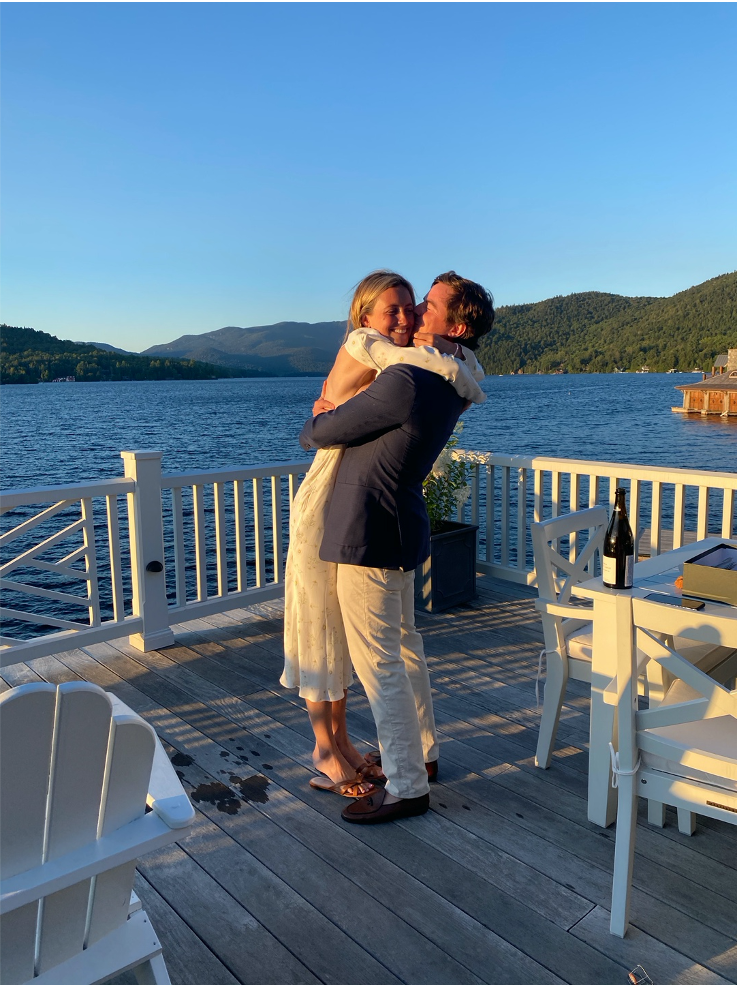 The dress I got engaged in
I rented this dress on Rent the Runway and decided to buy it because I could not send it back after being engaged in it – it was such a special night!
---
Thank you so much, Janie!