Fewer & Better Guide: Wellfleet, Massachusetts
I've been lucky enough to have one of my best friends share her favorite place in the world with our group–Wellfleet. In our twenties, spending the first weekend of the summer on the Cape was a tradition, one we all cherished. Wellfleet is beautiful and, thanks to the Cape Cod National Seashore, is far less developed than other towns on the Cape and the Islands. If you are looking for a quiet(er) summer getaway, I couldn't recommend Wellfleet more! I wanted to share some of our favorite places with you–we've spent years very systematically ranking lobster rolls up and down the Cape (The Lobster Pot in P-Town is the best, but Mac's Shack in Wellfleet is a very close second!)
---
How to get there
There are three main ways to get to Wellfleet! We always flew into Logan from D.C., then rented a car. We drove either early afternoon or late on Fridays to beat the traffic. You can also take the ferry from Boston to Provincetown and rent a car, or fly into Provincetown or Hyannis and rent a car.
---
What To Do
There are so many wonderful outdoor activities in Wellfleet. From beaches (Duck Hollow, Newcomb Hollow, and White Crest) to ponds (Great Pond and Long Pond are our favorites), there is something for everyone and every group!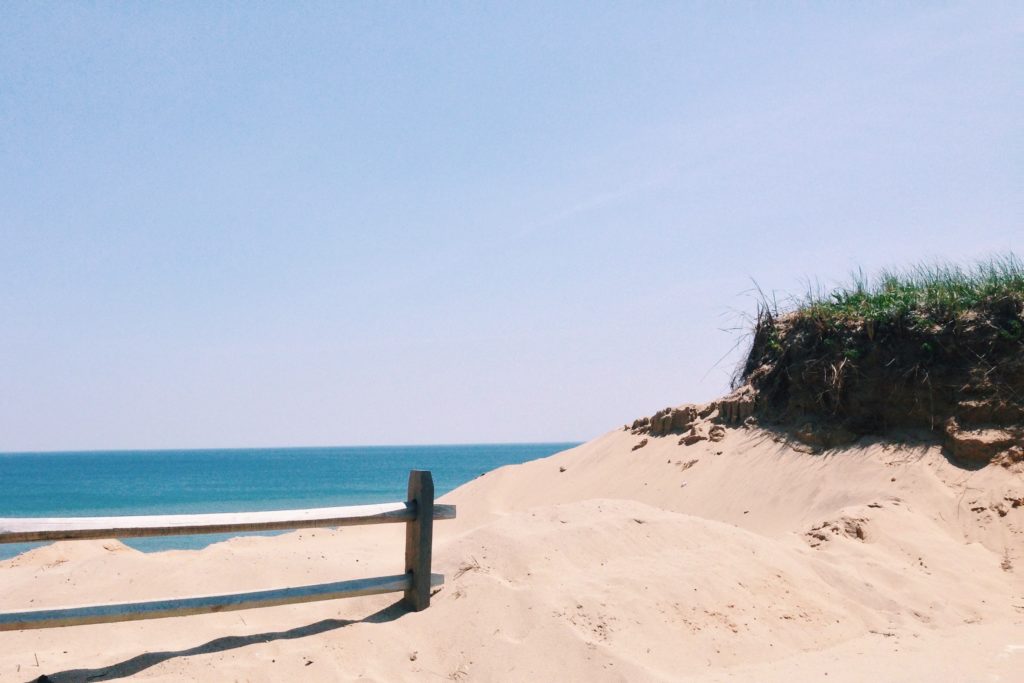 There are great hiking opportunities. The walk to Jeremy Point along the Great Island Trail is stunningly beautiful but also difficult, so be prepared for a nearly nine-mile round trip! It's definitely worth the hike, but be warned. For an easier walk, I love Uncle Tim's Bridge.
The Wellfleet Flea Market is famous up and down the Cape. Located at the Wellfleet Drive-In Theatre, you can check out their website to see opening hours and which vendors are there when you're visiting.
For shopping, we love browsing the incredible art galleries, especially The Frying Pan Gallery, the Left Bank Gallery, and the Blue Heron Gallery. You can easily spend the entire day walking down Commercial Street and stopping in to look at the beautiful art. Don't miss Ragg Time Ltd. as well for a Wellfleet Oysters t-shirt!
While I'm not a yoga fiend, two of my best friends are, and have talked about Quiet Mind Studio for literally years!
---
Where to eat
I adore food and eating, so we have spent years narrowing down our favorites from Wellfleet's amazing offerings.
Don't miss breakfast at PB Boulangerie–their bacon & cheese batard is incredible.
Mac's on the Pier is perfect for families or a casual lunch–plus a beautiful view of the harbor! Mac's Shack is our absolute favorite for a special dinner, and every year we plan an evening their, starting with martinis and oysters and continuing with the most incredible meal (lobster mashed potatoes! If you need a reason to plan a trip now, take this as a sign!)
The Beachcomber is great for families during the day, and is always fun for the younger crowd in the evenings. Don't miss reggae night!
The Pearl has great food, music, and a superb view if you like heading out in the evening.
Moby Dick's is another family-friendly spot with great lobster rolls (a top-three contender).
The Bookstore & Restaurant combines two of my favorite things, so obviously it is a favorite recommendation for me to share. It's a rare year-round restaurant, so it's a great place to visit in the off-season.
---
The Cape is a stunningly beautiful place, and if you're exploring more than just Wellfleet I love Truro, Chatham, and Provincetown as well! If you've been to Wellfleet, please share your favorite places below–putting this guide together has inspired me to plan a trip!
---
Thank you to Lucy, Lisa, and Tricia for helping me with this guide, and for our many wonderful memories at this special place!